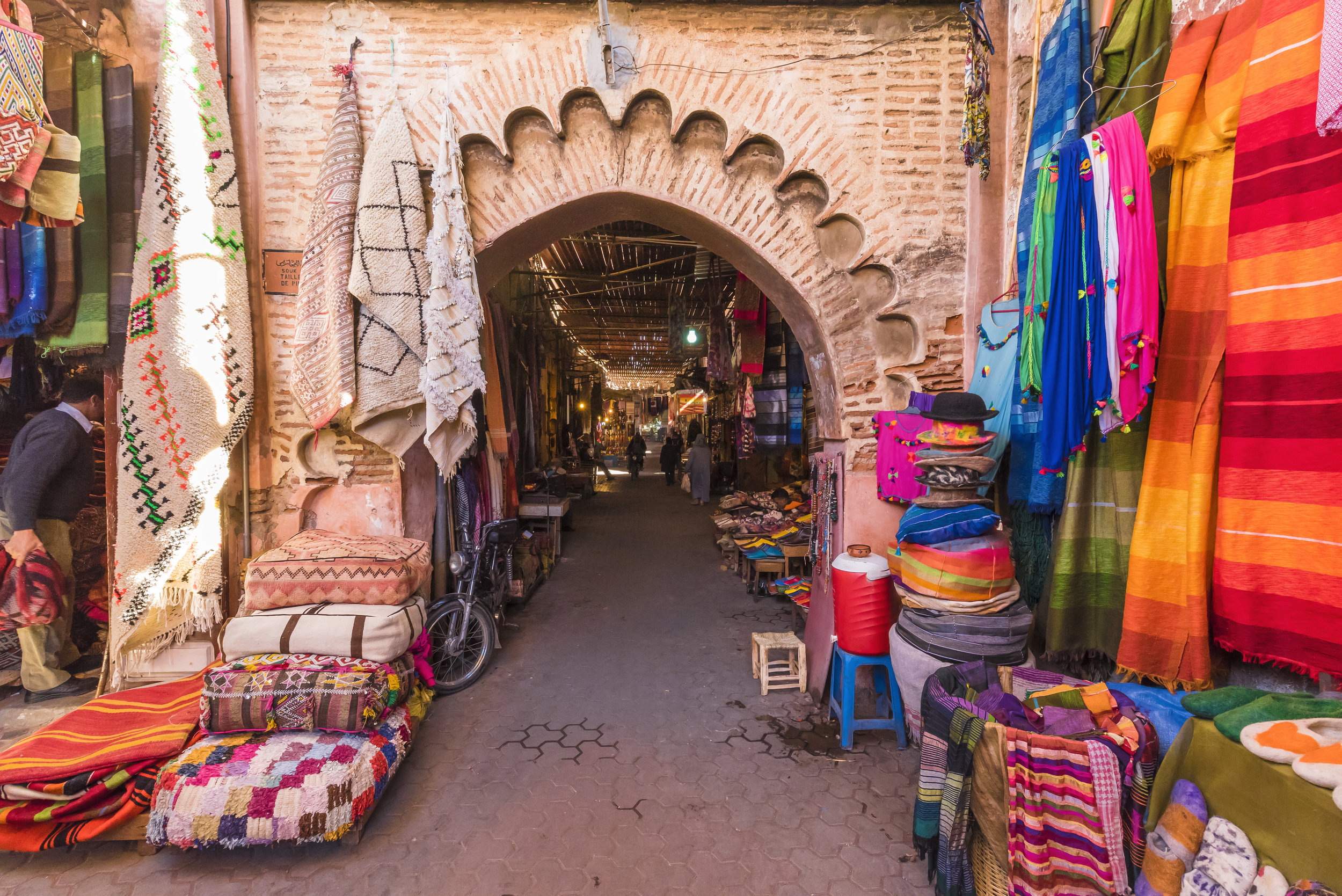 Enjoy 7-day / 7-night accommodations in our own private riad, situated in the heart of the old city center & steps from the bustling market stalls of the souks. With the perfect blend of a traditional experience with modern amenities, our sanctuary is the perfect tranquil escape after a day of exploration.
This elegant, zen, minimalist riad is made up of three (3) double rooms and two (2) suites.
All rooms are bright with high ceilings and traditional architectural elements, furnished with natural tones, wood accents and woven tapestries + textiles. Each room features air conditioning and has en-suite Tadelakkt bathrooms with shower, storage spaces & a safe for personal use.
The on-site chef will prepare the best Moroccan dishes with fresh products from the market.
Its quiet courtyard features towering white pillars, skirted by ornately detailed balconies with wooden furniture and earthy, natural elements used throughout the riad to hone a sense of wellness – and calm.
There is also outdoor dining and many lounge areas to relax or cozy up with a book/journal throughout the guesthouse. The pièce de résistance is the serene rooftop deck with a lovely dip pool, which is cocooned in whitewashed walls that hide it from the streets below.
H I G H L I G H T S . . .
*Accommodation at a beautiful riad for the duration of your stay
*Daily traditional Moroccan breakfast
*Four (4) lunches on alfresco terrasses + tiled courtyards (alcohol excluded)
*Five (5) dinners at magnificent venues (alcohol excluded)
*Visit Jemaa el Fna | Guided Tour throughout the bustling Medina | Majorelle Garden + Museum Strolls
*Moroccan Chef Cooking Class | Luxurious Hammam/ Spa Date | Endless Mint Tea Breaks

*EARTHCANDY'S "Sunset Desert Experience" | *special EARTHCANDY treats!
...PLUS plenty of free time to explore, get lost in narrow streets, walk along breathtaking alleyways and check off items on your bucket list!
Arrive in Marrakech Saturday June 29, 2019 between 2pm and 5pm GMT and receive complimentary transfer from Marrakech Menara Airport to the Riad in Marrakech***

Book return flights home between 7am and 12pm GMT Saturday July 6, 2019 and receive complimentary transportation from Riad to Marrakech Menara Airport*
Boutique hosted tours are the perfect way for me to share all that I love about this magical city, so the EARTHCANDY TRAVELS experience space is limited to eight (8) guests, in order to provide an intimate and authentic experience.
To reserve your space, please visit our APPLY page. Invitations will be extended until capacity is reached.
$500 non-refundable deposit is due upon acceptance to secure your spot.

Balance for room is due no later than MAY 18, 2019.

Prices are quoted in USD (U.S. Dollars).
DETAILS: Upon acceptance of your application, you will receive a dedicated VIP reservation link to make a single payment or payment plans for your ticket, following with a detailed itinerary that our team has curated. (A service fee of 7% is applied to all payment plans.)
I N V E S T M E N T . . .
Suite No. 1 ( double bed (SOLO OCCUPANCY) / private bathroom)……….…...…$3,595/ per traveller
Suite No. 1 ( double bed (DOUBLE OCCUPANCY) / private bathroom)…….…….$3,195/ per traveller
Suite No. 2 ( double bed (SOLO OCCUPANCY) / private bathroom)……….…….$3,595/ per traveller
Suite No. 2 ( double bed (DOUBLE OCCUPANCY) / private bathroom)…….……$3,195/ per traveller
Bedroom No. 1 ( 2 twin beds / private bathroom)……………………………….………….S O L D O U T
Bedroom No. 2 ( 2 twin beds / private bathroom)………………………….………………$2,895/ per traveller
Not Included in the package:
- Airfare to Marrakech
- Travel insurance (recommended)
- Gratuities
- Additional excursions
- Items of personal nature/souvenirs
- Spa service